Titanium Designer Jewelry
Titanium Designer Pendants from our Sportif Range
Blued Titanium and 14ct Gold Pendant set with a Diamond - Click for larger image and more details
US$250
Two Titanium and 14ct Gold Pendants with male/female symbol set with a Diamond - Click for larger image and more details US$600
Titanium and 14ct Gold circle disk Pendant set with a Diamond - Click for larger image and more details
US$220

Blued Titanium square Pendant set with a Diamond - Click for larger image and more details
US$300
Titanium and 14ct Gold Pendant set with a Diamond - Click for larger image and more details
US$300
Blued Titanium and Gold geometric Pendant set with a Diamond - Click for larger image and more details
US$400

Blued Titanium Circle Pendant with a Diamond and dangle gold disk - Click for larger image and more details US$400
Blued Titanium and Gold cone-shaped Pendant set with a Diamond - Click for larger image and more details US$325
Blued Titanium and 14ct Gold open circle Pendant Design with a Diamond - Click for larger image and more details US$360
Blued Titanium Pendant Circle with Star set Diamond - Click for larger image and more details US$315
Blued Titanium twist Pendant a drop pearl and diamond - Click for larger image and more details US$420
Blued Titanium Square Pendant with star set Diamond - Click for larger image and more details
US$315
Blued Titanium, Silver and Gold Butterfly Pendant set with a diamond - Click for larger image and more details US$485
Blued Titanium with a diamond tube set in gold with undulating curves - Click for larger image and more details US$450
Blued Titanium freeform and a dangling 18ct gold disk set with a Diamond - Click for larger image and more details US$525
Blued Titanium curved pendant set with a diamond - Click for larger image and more details US$385
lue Titanium Pendant in shape of Eiffel with a Pearl... details US$420
Blued Titanium triangular pendant set with a diamond - Click for larger image and more details US$385
Blued Titanium futuristic design pendant set with a diamond, ruby, emerald - Click for larger image and more details US$430
Titanium Cross set with a diamond and inlay gold - Click for larger image and more details US$400
Blued Titanium with gold droplet set with a emerald and diamond - Click for larger image and more details US$350
Titanium Designer Earrings from our Sportif Range
Satin finished Titanium and 14ct Gold Earrings set with a Diamond - Click for larger image and more details
US$440
Titanium earrings with 14ct Gold and Diamonds - Click for larger image and more details
US$600
Blued Titanium and 14ct Gold Earrings set with a Diamond - Click for larger image and more details
US$500
Blued Titanium and 14ct Gold Earrings set with a Diamond - Click for larger image and more details
US$630
Blued Titanium and 14ct Gold Earrings set with a Diamond - Click for larger image and more details
US$720
Blued Titanium Earrings Circle with Star set Diamond - Click for larger image and more details US$630
Blued Titanium diamond dangle design earrings - Click for larger image and more details US$400
Blued Titanium futuristic design earrings set with a diamond, ruby, emerald - Click for larger image and more details US$860
Titanium Designer Jewelry
Blued Titanium Designer Jewelry
In your search for titanium jewelry, you've probably come across many websites offering titanium jewelry.

What did you see? Most of the titanium jewelry is very similar in style - a basic ring shape, mostly machined, with a few variations to the finish of the ring. But how many sites did you come across that do

Titanium

designer jewelry

?

The difficulty and complexity of working in titanium, often limits using titanium creatively in custom titanium jewelry. The metal is so beautiful with such depth of colour that it turns any piece into titanium art jewelry. This metal has intrigued us from way back when. We've honed our skills of complex crafting of titanium over the past 15 years. Our signature titanium designer jewelry has become one of our most popular jewelry ranges. And rightly so with such an expressive metal!

Our designs and -smithing techniques are so unusual, that your custom jewelry in titanium is guaranteed to be a centre piece of conversation and admiration, whether you decide to dress it up to compliment your evening gown or pare it down with jeans. You, for sure will make a statement!

Titanium Designer Jewelry - Couture Collection
Titanium Art Jewelry
Without a doubt Titanium is an important ingredient in our "paintings in metal" jewelry. What better colour than blued Titanium to represent waves or the sky? We particularly enjoy the creation of titanium art jewelry with nature as a strong theme.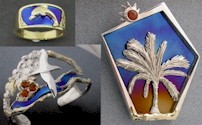 Titanium Art Jewelry See more blued Titanium designs
Titanium Rings
Yes, you've seen Titanium Rings and then some. But have you ever come across these one-of-a-kind Titanium Rings? We are not afraid to work titanium like gold, although we do factor in the mechanical limitations. In our latest titanium designs we have joined the titanium with gold to allow the rings to be re-sized. Be daring! Wear blue Titanium Rings.
Titanium Rings -blue See more one-of-a-kind blued Titanium rings
Men's Titanium Jewelry
Men are more understated in their jewelry choices. Trendy Titanium describes the latest jewelry trends for 2006. We recently launched our latest titanium creations, which differ in that we worked with the grey metal to create For the Man - Titanium Jewelry and Titanium Unisex Range.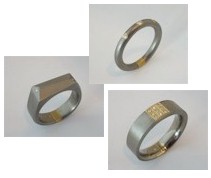 For the Man - Titanium Jewelry Click for more details.
Titanium Bangles
These handcrafted Titanium Bangles say "Signature Style" in capital letters. We use the repoussť goldsmithing technique to shape the Titanium. You will not go un-noticed wearing a one-of-a-kind Titanium Bangle.
Titanium Pendant and Earrings
What more could you want then a complete Titanium Jewelry Suite? That would be the ultimate gift collection when falling in love with the unique qualities and beauty of Titanium Jewelry.
How to place Custom Jewelry Order for Titanium
We've had requests before to change those highly priced titanium golf clubs to the electric blue colour. Yes, it's possible but might affect your handicap somewhat. We have a better suggestion though. Why not make a tie clip in the shape of a golf club out of blued titanium? That is exactly what we did with this Custom Jewelry Titanium order for a baseball bat. Another idea is to have a nametag made out blued titanium. Our custom made Titanium Maps are very popular. You could for instance have a map made of your State or Country. One-of-a-kind custom made Titanium Jewelry is the new luxury item and a very unique personal gift. Detailed dialogue is so important in the placing of such an order. We can arrange an electronic consultation with more specific information. Read more on Latest Jewelry Trends , how to Order Jewelry and look through our Jewelry Catalog, where hundreds of design ideas can be viewed. Please phone us or contact us at jewelry@meevis.com for a consultation or professional jewelry advice.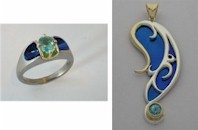 Custom Jewelry in Titanium! Look at our latest Titanium designs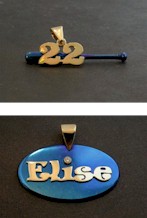 Custom Designed Titanium Jewelry Above are samples of custom commissioned work
Titanium Jewelry handcrafted for a customer - Order Jewelry - how to