Newsletter:
Spring and Sprightly Days Ahead!

You're always in our thoughts, even though we've not spoken for a while, as work is keeping us hopping.

It was a fitting finale to the year's end, seeing the New Year in by having some quiet reflective time. Celebrating the wonderment of the past year and with excitement looking forward to the coming year. Most of all the gratitude we feel towards people who have touched our lives in the past year. Where better to celebrate, than where we love being most….. in our creative haven. That's were we spend countless happy hours, doing what we love most. And the celebratory meal? A very simple meal of Lobster, grilled to perfection, served with chilled crisp Rosé, which was a suitably pleasant match.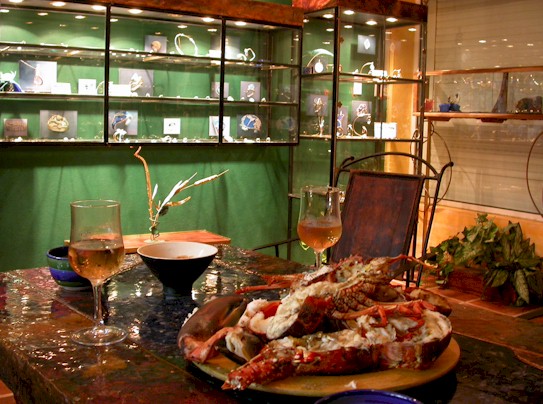 We all know how special St Martin/St Maarten is. A discovery that many make. More and more private planes arrive throughout the season. The arrival figures at Princess Juliana Airport have increased too. You've got to admit that this is paradise….a beach walk or swim to start the day – just the right concoction to make creative juices flow.




Simpson Bay beach Private aircraft packed like sardines

In our last newsletter I mentioned that Hans was doing a lot of gem cutting, particularly Tourmaline. One of our specialities, is to create a jewelry piece from beginning to finish including the gem cutting and setting.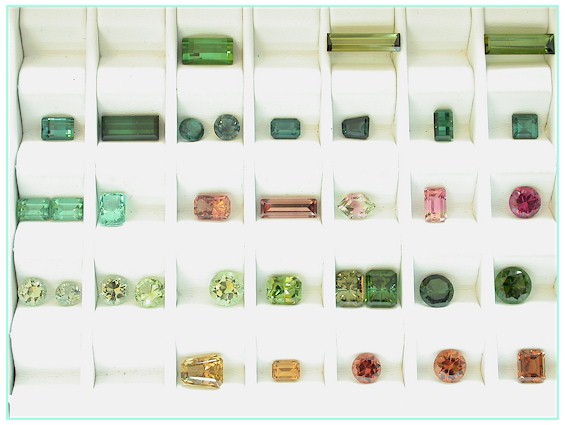 Tourmalines cut by Hans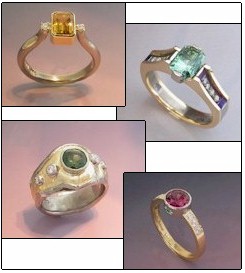 Bright Spring Colours

These rings and our latest jewelry designs can be viewed on - Page 1 and Page 2
of our o(31) 646 77 6214ine catalog.

St Maarten celebrated Easter in an alternative manner. This year a best dressed dog with bonnet /dog walk fundraiser was held. Mr. and Mrs. Greene were so kind to supply the picture.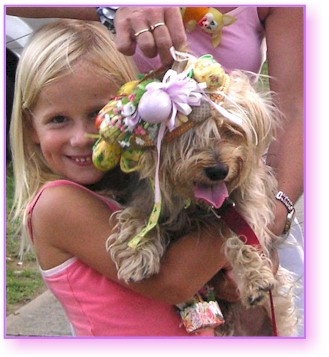 Photo: Mr. Bill Greene
Too adorable for words……

Easter went by in a blur, particularly so when we received a surprise visit from our 22 year old nephew, who lives in Perth, Australia. He was on his way to Grenada to watch the World Cricket Cup. For such a major tournament, St Maarten was relatively unaffected by the all the hype. As a matter of fact we would've been none the wiser, if it weren't for a few staunch cricket supporters hanging out at the sports bar.

A much bigger hype besetting our island was the election, which was followed by carnival. Flags and election posters lined the streets all over the Dutch side. Many volunteers were tasked to put up these posters.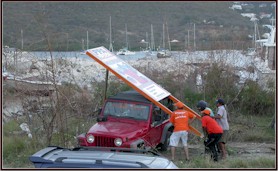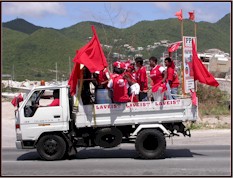 This was an important election in each of the five islands of the Netherlands Antilles. The newly elected councilor's will take St Maarten into it's new status as Country within the Kingdom of the Netherlands in December 08. That step will effectively disband the Netherlands Antilles. Mrs. Wescott-Williams fought an intense election campaign, despite the recent passing of her husband. The leader, Mrs. Sarah Wescott-Williams and her ruling DP party won the elections, thereby ensuring that they will lead St Maarten into new territory.

This is such an historical event for the island. For years the St Maartener's have been trying to sever ties with Curaçao. Makes one think of the past and the future. Here is an interesting video clip on that subject supplied by St Maarten Private Eye -
St. Maarten - Past, present and future

Reports from the art scene is that famous St Martin Painter, Roland Richardson unveiled his new collection. His permanent exhibit can be viewed at his gallery in Rue de la Republique, Marigot.

And for a happy ending story from the friendly island. Ms. Mair Patterson is another acclaimed painter, who usually exhibits her work on Harmony nights in Grand Case and Art in the park. In packing up her art work, she forgot two of her larger sized original paintings that were hanging in her booth. A heartfelt plea of hers appeared in the newspaper the following Monday. Turns out that Mr. Albert Loney, an employee from the Presidente (beer) Company, was Mair's saviour and good Samaritan, that saved the day, by carefully packing the paintings and returning them to the rightful (and relieved) owner. Big smiles were seen everywhere.
Harmony nights ended in April and will resume end of December again

The other evening we got invited on a private yacht for cocktail drinks. This was a new experience for us and most enjoyable we might add. Most will be impressed with the opulence of the cabins. Being technically minded, we much preferred the impressive fly bridge and the massive engine room – wow!

The impressive fly bridge and engine room of a yacht.

Never a dull moment in paradise!!!!!

This is a very special weekend. We want to wish all mother's a Happy Mother's Day on Sunday. This bouquet comes from us and Popcorn, our cockatiel.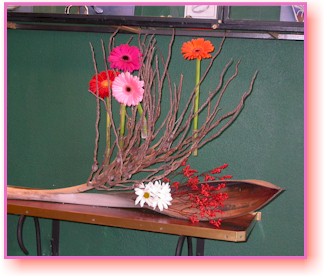 Best wishes from paradise.

Hans and Anne

Other News Links:
Newsletter : Festive Season
Newsletter : Summer Holiday's