Gem Carving - Step by Step
Gem Carving - Step by Step Demo - US$35 PDF Download will be emailed 4 - 12hours after purchase

Free-form gem carving allows for a lot of artistic interpretation and creativity. Gem carving requires a light touch of the hand and patience. After the final polish excitement can hardly be contained to see the end result of all the time spent on carving the gemstone. Will the light dance around a reflective pool as planned? Did you coax the intensity and play of light out of the gemstone?

This Gem Carving Tutorial will be teaching in much detail how to do the gem carving. Exact information on fashioning your own wheels to allow you to polish all the different curves and concaves of your gemstone design. Abrasive and polishing compounds is another subject thoroughly explained in this gem carving tutorial. It ensures that your gemstone will have a highly polished surface. The result will bring your gemstone to scintillating life.

This tutorial on gem carving is a very comprehensive step by step illustrated guide that can be used by beginners and advanced gem-cutters alike. This Gem Carving Tutorial features:
-- 60 Pictures/ Illustrations
-- 36 Pages detailing the carving process
-- Personalized tips on tools and technique

You will need:
A gemstone - it can be anything from synthetic to natural gemstone. Quartz is a very good starting point.
Hanging Motor
Eye Magnification
A few diamond burrs
Polishing Wheels
Polishing Compound




Your free-form carved gemstone can be used in this step by step Making a Fused Pendant Tutorial this picture below.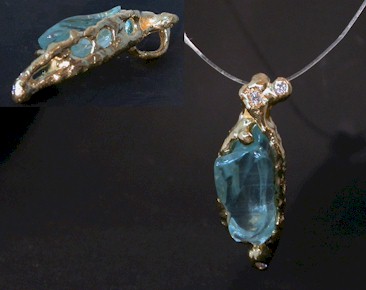 Gem Carving Step by Step Demo - US$35 PDF download will be emailed 4 - 12 hours after purchase